The 4th International Congress on Ionic Liquids (COIL-4)
发布时间:2011-07-27 16:44:31 阅读次数: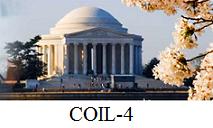 The Host Committee for the 4th International Congress on ionic liquids (COIL-4) welcomes you to Washington, DC June 15-18, 2011 to explore the fascinating world of the science and application of ionic liquids. This meeting is the 4th in a series of successful meetings dating back to June 2005 when over 450 participants from 33 countries met in Salzburg, Austria to discuss and debate the lively topic of ionic liquids. equally successful meetings have subsequently been held in Yokohama (COIL-2, 2007), and Cairns, Australia (COIL-3, 2009).
2011
4th International Congress on Ionic Liquids, Washington DC, USA, 15-18 June 2011
2009
3rd International Congress on Ionic Liquids, Australia, Cairns, May 31- June 4 2009
2007
2nd International Congress on Ionic Liquids, Yokohama, Japan, 5-10 August 2007
2005
1st International Congress on Ionic Liquids, Salzburg, Austria, 19-22 June 2005
COIL-4 marks the first opportunity for the United States to host this meeting and it comes at an auspicious time. Interest in ionic liquids has been rapidly growing in the US, in part because of the fascinating set of physical, chemical, and biological property sets these materials possess, and in part from the growing realization of new applications in such key areas as Sustainable Energy, Biomass, Biorefineries, Renewable Fuels and Chemicals, Materials, Pharmaceuticals, Separations, catalysis, and biotechnology (to name a few). Government and industrial funding in the area is rapidly increasing.
COIL-4 represents an opportunity to meet and discuss these and other major topics in the field with international experts. In addition, representatives from large and small industry can provide insight into key issues such as scale-up, costs, availability, registration, and other key parameters needed to plan new ventures.
The Scientific program includes 8 Plenary Lectures, 35 Keynote and Featured Lectures and a number of contributed talks. Lively poster sessions and social events will provide much time for interaction with ionic liquid scientists and engineers from around the world. Participants will learn more about the Ionic Liquid state of matter and the growing impact of these fascinating materials on key societal issues such as Sustainable energy, New and Renewable Materials, biology, biotechnology, and Industrial Processes.