Prof. Robin D. Rogers, World Renowned Expert in Ionic Liquids, Visits LICP
Release time:2010-11-01 00:00:00 Reading times:
Prof.Robin D. Rogers, world renowned expert in ionic liquids and director of the Center for Green Manufacturing of the University of Alabama, USA, visited the Lanzhou Institute of Chemical Physics (LICP) of the CAS on October 29.
During the visit, Prof.Robin D. Rogers gave a lecture entitled "ionic liquids: Recent Research & Development". The lecture introduced what's green chemistry, its relationship with sustainable development and its influence on environment, society and economic development; the relationship between ionic liquids and green chemistry; application of ionic liquids in energy, resources, environment, materials; dissolution and transformation of biomass and its application in pharmaceutical industry and chemical engineering. He hoped that green chemistry could lead ionic liquids to a better development.
After the visits, Prof.Robin D. Rogers visited the exhibition room of the LICP and Center of Green Chemistry and catalysis and discussed the further cooperation between the two sides.
Prof.Robin D. Rogers is one of the pioneers in the applied research into ionic liquids. In 2005 he won the Presidential Green Chemistry Challenge Award. In 2009 he was included in the Chinese Academy of Sciences Visiting Professorship Senior International Scientists.
The Center of Green Chemistry and Catalysis of the LICP has been long engaged in the basic research and applied research on ionic liquids. Its research in this field is of great significance in the development of ionic liquids.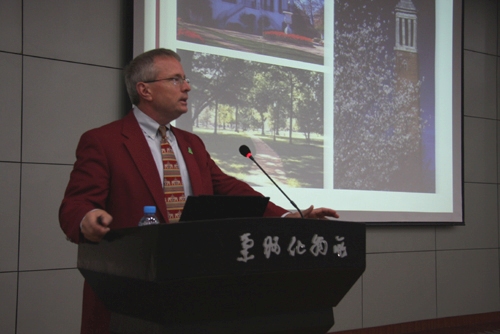 Prof. Robin D. Rogers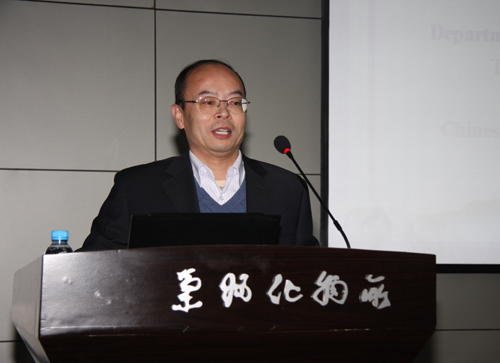 Prof. DENG Youquan of the LICP
In the exhibition room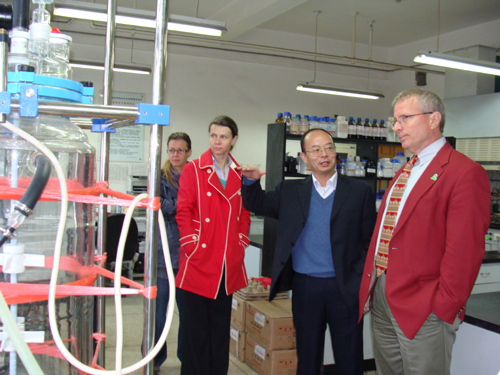 In the Center of Green Chemistry and Catalysis